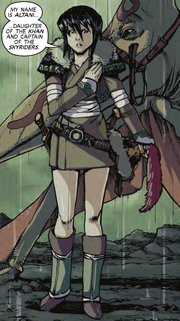 Altani is a young Mongol warrior featuring in Dynamite's Turok: Dinosaur Hunter comic book series. She is introduced in the second arc of the series.
Biography
Edit
Little is currently known about Altani's past. She is the daughter of a Khan of Mongolia and the captain of a military unit known as the Skyriders. These warriors do combat mounted on tamed pterosaurs. Altani herself has tamed and rides a giant female Pteranodon named Borta.
In the Comics
Edit
Altani appears in the second arc of Dynamite's Turok: Dinosaur Hunter as an important character.
In issue #5, she is introduced as Turok rescues her from a marauding trio of Red Drake. The two warriors then befriend one another, spending considerable time together as she aids Turok in taming a Red Drake injured in their initial meeting. However, as the pair are ambushed by a large tribe of advanced, Mastodon-riding, Native Americans, Altani flees on Pteranodon-back, urging Turok to head east.
In Issue #7 Altani returns to the Mongol camp to consult with her father, The Khan. She informs him of her encounters with Turok and Cahokia. She attempts to convince him that Turok may be able to convince the Cahokia into peaceful surrender, but the Khan refuses and insists that the city be crushed and that Altani kills Turok. With these developments, Altani rides Borta off in the night to find Turok and leave with him, having no further involvement in the war. She finds Turok riding with Batan and kills the latter by accident on reflex as he sneaks up behind her while she is conversing with Turok.
Community content is available under
CC-BY-SA
unless otherwise noted.